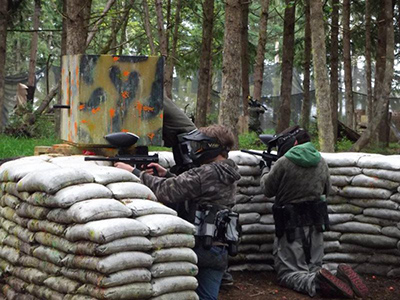 Celebrating 30 years!!!
Customer service is what we offer! Paintball is how we get to do it!
WE PLAY RAIN OR SHINE..
With over 47 acres of forest, bunkers, foxholes, towers and castles, we offer the very best outdoor playing experience in the Portland area!
Our field can provide everything you need to play whether you are new to the game or a seasoned veteran. We can easily accommodate large groups and provide privately refereed games for any occasion. Check out our Brittle Ball information. We are now ALSO offering FREE WiFi!
Please check out prices for a detailed list of rental options and costs. If you can't find the information you're looking for there, feel free to call us. If you would like to save yourself some time at the booth when you come out, please fill out our online waiver.
Are you wanting to bring a big group out to play? Take a minute to fill out our online Book Now! It's fast and easy!
Are you looking for a great spot to play Airsoft? Great news! We host Airsoft groups out here too!!
Our detailed Safety Brief highlights all of the important things to know before you play, but don't worry, we'll go over all of that information before you go out on the field.
***Splat Action is a FIELD PAINT ONLY field.
Youtube has a cool drone video of our field.
Payment options: We accept Visa, Master Card, American Express and Company check. Sorry, no personal checks.



Open Weekends 10:00am -5:00pm
Mon-Fri by appointment only; 10 player minimum.